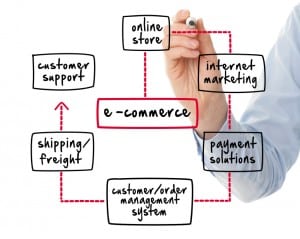 Is your e-commerce ready for the holiday rush?
If not, now is the time to get your website and e-commerce ready to shine for the holidays.
Did you know that the US e-commerce and online retail sales are projected to reach $262 billion for 2013 and 1.29 trillion worldwide?
Here are nine tips to make your e-commerce shine.
Update your website with clean design, great content and ease of function.
Make sure your web host can handle the expected traffic from your holiday sales rush. Test your site early and often to ensure it is handling the increased web traffic. Catch any glitches before your customers do.
Implement a product launch plan for the season. Send emails to announce your holiday specials. Use social media to promote, educate and share your product specials.
Make sure your e-commerce is ready with an easy to use, safe, secure shopping area on your site. Include sharp product images, a search box and payment synching.
Test your shopping cart to make sure all the links work, checkout works, the site is user friendly and everything functions as expected.
Have easy to find customer service contacts, clear return policies and guarantees to help customers feel good about buying from your company.
Cross Sell. If your customer is buying pants, offer shirts and socks on the selection page. If you sell websites like we do, promote SEO and social media.
If you don't have a shopping cart program, you'll need to buy software or a ready to go solution that can take orders, calculate shipping and sales tax, and send order notifications. Don't focus solely on price: E-commerce is a long term strategy. Which option will serve your expected sales growth for the next 3-5 years? Study the choices to see which fits your budget, products or services, and business plans.
Then you'll need to set up an online merchant account to accept credit card payments online. And a payment gateway to link your customers payment to your account. PayPal is an alternative which is fairly easy and inexpensive, but has some limits.
According to Sebastian Moser, good e-commerce solutions will include:
A wizard-driven setup: Most merchants need a wizard-driven system that takes them from start to a fully operational e-commerce storefront.
Multiple templates: Good e-commerce providers will have different templates to meet the needs of its varied customers and their products.
SSL encryption: The system should include the option of SSL encryption-a protocol for transmitting private documents via the internet. This means your customers' credit card information and address is transmitted securely.
A database-driven system: This allows the program to be integrated with your customer database, so you can send out promotional emails.
Payment options: PayPal serves the needs of many sellers, but not all of them. The best e-commerce vendors offer multiple payment choices.
After the holiday rush, relax and then analyze what worked and what didn't so you can improve for next year.
Are you ready to claim your share of the $262 billion online sales pie?
Quit Monkeying Around! Join the Zoo.™