Paid in Full
Rick and Cindy Boosey
of KYYA Chocolate
The founders and owners of KYYA Chocolate, Rick and Cindy Boosey, are truly partners in everything they do. They are happily married, with four adopted daughters—two from China, and twins from Memphis—whom Cindy homeschools. They are also partners in business: Rick creates and sells KYYA's chocolate, while Cindy keeps the books and helps him run the business. They have traveled the world together. They have experienced great hardship together. Through everything, their intent is always to serve others and give back what has been given to them. They have incredible faith and perseverance, and live their lives as much as possible without fear. They have sacrificed success to find their true purpose, side by side.
Meet Rick and Cindy:
Rick and Cindy met at church while living in Memphis when they were twenty-four. Their first date was three hours of talking while waiting for a table at Red Lobster. Rick says they "had these long talks. I remember my parents saying that they'd never seen anybody talk like the two of us talked." They married after four months of dating and moved to South Carolina for Rick to work with a healthcare system, moving their operations to Malaysia. While there, Cindy wanted to start an interpretative service for deaf people, so they worked together making sales calls for her business at night. "The entrepreneurial side has always been there," Rick says, "It's just depended on the place and where we saw the need." Then Cindy was in a bad car collision that left her with painful tissue damage that limited her working ability. "We just had to close everything down and take care of her," Rick says. They closed Cindy's interpretative business, found some help for her, and Rick changed jobs again.
Soon, Rick found an ad in the newspaper for a job working for Microsoft. He had a promising phone interview, and the recruiter invited him to come to their headquarters in Seattle. As Rick tells the story, "She said I would get plane tickets in the mail on Friday, I would fly out on Sunday, and they would interview me Monday morning. Well I got home at seven or eight Friday night, and there were no tickets. I'm calling Seattle, and no one is answering the phone. So I started thinking about the phone interview—I was going to be in charge of over a billion dollars of Microsoft products, so maybe they were testing me. Maybe this was just a test to see if I could think on my feet, to see if I'm the guy. As I talked with Cindy, she agreed that I might be onto something. So we started thinking back to the interview—they asked me what I liked to fly, I had said Northwest. So I called Northwest, and they said, 'Yes, Mr. Boosey, you have tickets for Sunday to fly to Seattle.' So the worst I'm out now is a rental car and night's hotel, we're going to go. We called all the hotels in Seattle, couldn't find a reservation. I flew out on Sunday, and Cindy kept calling hotels. When I got there, I started walking down the line of rentals thinking one of them had to have a rental for me. It just so happened, Avis had a rental in my name. So I ask the guy at the counter, 'Where does Microsoft put up people?' He named off a couple, and I said we had checked all those. Then he said, 'If they really like you, they put you up at the Woodmark. But that's where they put the executive people.' I thought, what did I have to lose? I called the Woodmark, and they said, 'Yes, Mr. Boosey, we have a reservation for you.' Every step of the way, I had been calling the recruiter and leaving her voicemails when I found each reservation. But on Monday morning, I didn't know where to go at Microsoft. There were forty-five buildings, so I thought it had to be Building 1. At 7:30 the Microsoft phone turns on and the operator answers. So I called her and explained that I was there for an interview and didn't know where to go. She said they interview you in whatever building you'd be working in. We kept talking and figured out where I needed to go, up to Kirkland. I walked into the lobby at Kirkland, and the phone rings—it's the recruiter, who's just listened to eight messages from the weekend—I had the job before I ever walked in the door. They were so impressed that I had sniffed out the trail." Cindy continues, "It wasn't a test! They just forgot." So Rick and Cindy moved to Seattle and lived there for four and a half years.
During that time, in 2008, Cindy asked Rick to go with her to an Ancient Paths conference. Rick told, "I don't want to go to any kind of Christian conference, and if this is a marriage thing, I have no desire." She made him a deal—"If you go with me Thursday night and you don't like it, we don't have to go back." Rick says now, "Thursday night forever changed our lives." They stayed for the entire weekend. The conference allowed Rick and Cindy to work through "garbage" that had built up in their marriage, work through their hurts toward each other, and Rick especially heard truths about who he was and what he was made for that allowed him to heal from lies he had believed about himself. Rick says,
"That was a mountaintop weekend. I was like, okay, God, you are real, and I don't ever want to leave that truth again."
Following the conference, Rick says, "One day I did a stupid thing and asked God a question. I asked if Microsoft was where he wanted me to be. I knew the answer. From a comfort perspective, we had one of the best jobs in the world. Anything I wanted to do in Arkansas, I could do it with Microsoft's backing. God answered my prayer by saying, 'No, Microsoft isn't what you're here for.' I fought God for six months on that, and then the Microsoft job dried up under me." Microsoft offered Rick a job in Switzerland, which his family was enthusiastic about. But during the interview Rick asked how much travel was involved—99%. "It was the perfect travel job," Rick says, "but not the perfect family job." One of the badges of honor at Microsoft was your first divorce, and the Booseys didn't want any part of that. Rick turned down the job, and once he told Microsoft no, they began to push him out slowly. They walked away from Microsoft after almost five wildly successful years and went to the beach for a month to pray and dream about what to do next.
As their four adopted daughters played on the beach, Rick and Cindy talked about their dreams and vision for the future. They had five big ideas, and at the top of the list was opening a salad bar. Cindy had taken a trip with Rick to New York City, where she played and wandered while Rick was at a conference. Cindy says, "I love salad bars, so I went to all the delis for lunch and dinner. When we got to the beach and were talking about ideas, I immediately thought, I want to open a salad bar in northwest Arkansas!" Rick and Cindy researched and visited salad bars in Dallas and Kansas City and thought, "There's nothing to this. It's a restaurant—how hard could it be?" (They laugh now at those words.) They opened a salad bar in Bentonville called World Garden. Their plan was to reserve one-seventh of their profits to support three orphanages worldwide. They stayed open for three years before the recession forced them to close their doors in October 2010.
Just a few years after their peak at Microsoft, they had nothing. They had $350,000 in debt, their house was in foreclosure, and the IRS, their accountant, and even their pastor told them to file bankruptcy. Rick was terrified that Cindy was going to leave him, but Cindy was fearless. He asked her, "What happens when they take away the house?" She said, "We'll move into an apartment, we'll have a roof over our head, and I'll finally have the pool you never bought me." He continued, "What happens when we file bankruptcy?" She asked what he was afraid of; he replied, "That you'll leave me." She said, "I'm not leaving you. Forget about that fear. What else?" They sat together as Cindy worked through all of Rick's "fear line," as he called it, until there was no fear left. Then she said, "Now we can pray for God to show us what he wants us to do."
"I was at the top of my career at Microsoft, I could have any sales job in the world that I wanted, I leave to open a restaurant that I then fail—who would ever hire me again?"
Rick and Cindy returned to the beach, where they had a free place to stay, to think and pray about what they could possibly do next. Rick says, "I was at the top of my career at Microsoft, I could have any sales job in the world that I wanted, I leave to open a restaurant that I then fail—who would ever hire me again?" They got to the beach on Saturday, and Monday morning they got two phone calls from people who knew them, who wanted to offer them jobs. At the end of the week, Rick flew to Dallas and interviewed for a job with a software company, and he was hired. Rick worked as hard as he could for two years. He hit and surpassed every sale goal they gave him. "We were in $350,000 of debt. I couldn't even dream of how to walk out of that debt. The amazing thing is, we paid it all off in two years to the day."
Their last debt was their landlord: he had let their rent slide for eighteen months, and they owed him around $85,000. He had paid it down to $41,000, and he met with Matt, the landlord, to pay the balance. Rick wanted to ask for 10% off, knowing that Matt would say no and give him maybe 5%, but that was better than nothing. They started talking, and Rick told him about the failure of World Garden and a new opportunity the Booseys had with a church in Uganda to build a chicken farm. His landlord began to tear up. When Rick asked him for 10% off, Matt said, "No—I'm going to take 20% off, and I want you to go give that 20% to the Ugandan pastor right now." Reflecting back now, Rick still chokes up as he tells this part of their story: "Matt stamped Paid in Full on the check, and I lost it. That's Jesus—our debt is paid in full. Now, out of nothing, out of bankruptcy, I get to give my friend Joelle this gift." The Joelle, the Ugandan pastor, just happened to be in Fayetteville at that time. Rick took him a check for $3,400, and Joelle began to weep. Rick says, "African men don't cry publicly, but Joelle starts crying. There's about twenty people in this room, and we can tell this is about more than the check." Joelle finally told that in January he didn't have enough money to cover the bills, so he took a loan from a loan shark. Joelle said, "I was too embarrassed to ask for help, but God knew I needed help, and he has used this today to pay it off." Rick says, "We asked him if that paid it in full, and he said not quite. I'm figuring it would be another five or ten grand—it was like four hundred dollars. Cindy immediately pulled out her checkbook and wrote him a second check. Paid in full." This experience was a turning point for Rick and Cindy as they began to fully pursue a life that gave to others freely.
Several years before all of this, Rick volunteered Cindy to go to Africa, accompanying a woman who was adopting a baby from Ethiopia. While Cindy was there, her companions went out on a trip that she wasn't allowed to go on since she wasn't adopting. She decided to go find a quiet place to rest and pray. Cindy says, "I was up on the roof, and I couldn't look down because there was so much poverty everywhere you look. I just wanted to rest, so I looked straight out at the rolling hills. I started praying and having my devotional time, and God started speaking to me." She had a vision of her and Rick evangelizing and ministering to people in Uganda and Ethiopia. She hadn't spoken to Rick in ten days, but she called him and told him what she seen; he responded, "What the heck are you thinking?" He had a heart to go to China, since two of the Booseys' adopted daughters are from China. He had no desire to go to any country in Africa or to be an evangelist. But Cindy's trip and vision planted the seeds in their hearts, and four years later, Rick found himself in Uganda, sharing his faith.
Long before Rick talked to his landlord about this, Rick had joined a mission board in Fayetteville that was sending money to Joelle, their Ugandan pastor friend, to build a chicken farm. Rick and Joelle met at a fundraiser in the United States, and Rick mentioned that he might come to Joelle's village sometime. Joelle boomed, "I am going to hold you to that!" When Rick eventually traveled to Uganda to help with the chicken farm, but the construction work his team had planned on doing had already been done by the Ugandan church. Joelle suggested that instead of building, the team could travel around and teach and share their testimonies of faith. Rick fell into the position of the Bible teacher, and taught at over twenty events set up by Joelle. Rick also visited orphanages while in Uganda. He says, "There were people living in squalor and mud, and it had been wet the days we were there. I was okay for the first two weeks, but the third week, when we were supposed to come home, our flights started getting canceled. I knew I was going to get home, but I lost it. I realized that I get to go home, but all these people will stay here, in the stench and the hopelessness and poverty. It got me. I said, 'all right, Lord, here we go again.'" The church twenty-seven acres of land, and they were just doing broadcast corn planting, like they did in the '20s. I knew I had the mind to help them. I had a thirty hour flight to get home, and I had three or four notebooks that I had been writing in constantly. I looked up the natural resources of Uganda: they had coffee, cotton, and cacao. I knew coffee roasters—I know Onyx, I know Kennedy, I know Arsaga's—the world doesn't need another coffee roaster. Cotton—I was not a textile guy. But cacao? I was like, wait a minute, we had a restaurant, we're foodies, this is easy! How hard could chocolate be?" (Note a pattern here.)
How hard could chocolate be?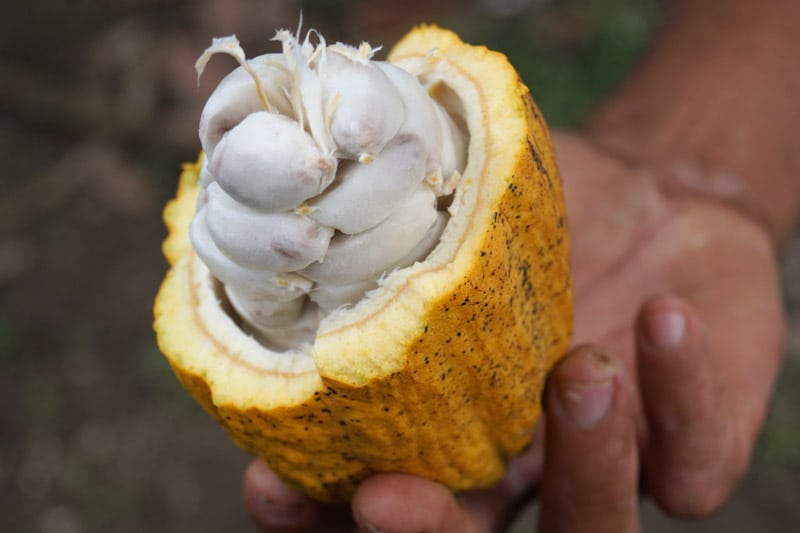 Rick took six months to get KYYA rolling in its earliest form. He says, "We made a lot of bad chocolate. In July of 2013, I hit on something. I figured out the process, I figured out what tastes good to me. The whole process fit on a six-foot plastic table. The conch, the tempering machine, the packaging—it all ran on a table in our laundry room." They took their first twenty-five good bars and took them to Onyx Coffee Lab to talk to Jon Allen. They told Jon what they were doing, Jon tasted the chocolate, and he bought them on the spot for $50. They had spent about $5,000 to make $50. Cindy looked at Rick and simply said, "Put up or shut up." They laugh now, and Cindy explains, "I'm just practical! He has this vision, and I'm thinking about solutions." In their first two years of operations, they sold only $16,000 worth of chocolate. In just four years, their company has grown exponentially, although they still operate with fewer than five employees out of a 1900 square foot building in Elm Springs.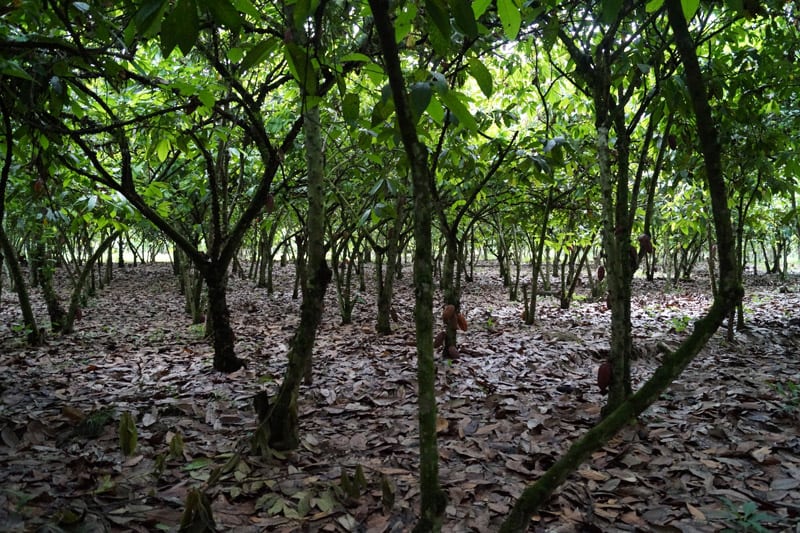 Rick started looking worldwide, and he realized that most cacao farmers do not make fair trade for their labor. Chocolate is very expensive to buy from importers—Rick's first batch of beans cost him $7.75 per pound—but most of that money is eaten up by middle men, and the farmers don't see it. Rick wanted to do things differently for KYYA: "Our model is single origin chocolate. We eliminate between five and eight middle men, so it's just the farmer, the exporter, and me. The farmer makes better than fair trade, we get beans cheaper than we would otherwise. Fair trade for chocolate right now is $1.14 a pound for organic and $0.92 a pound of non-organic. We spent two weeks in South America, and we told the farmers what we wanted to do. We had just told them what fair trade was per pound, and we asked what they were making then. They said, 'We make $0.28 a pound, and we're happy.' Now, with direct trade, we're paying the farmer and the exporter $1.63 per pound. So he triples what he was getting, I will still get it much cheaper than I was buying it, and everybody wins. All we did was optimize the supply chain." Hopefully other chocolate companies can follow KYYA's revolutionary example in this area.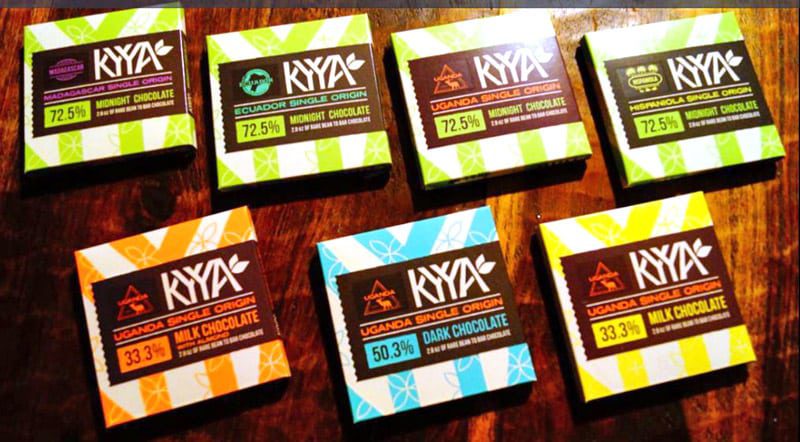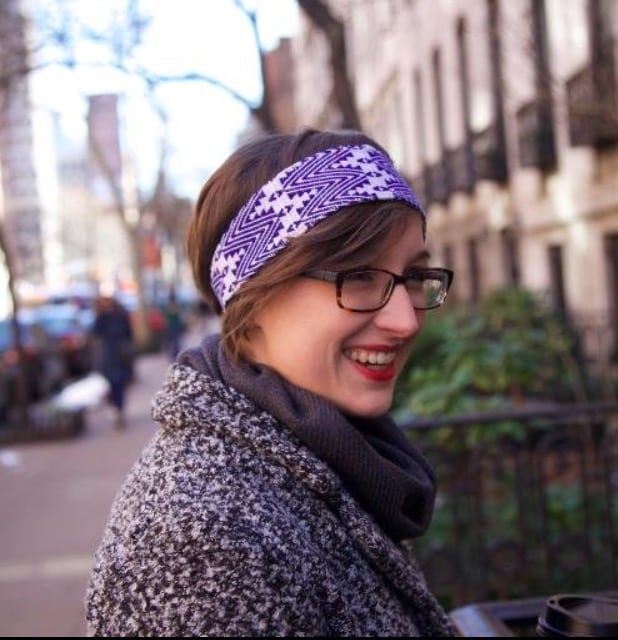 Emalie Cockrell
Contributing Author
Emalie Cockrell is a writer located in Fayetteville, Arkansas. She pursues writing fiction, as well as writing non-fiction about nature, traveling, running, Christianity, and real stories about real people. Watch for more of her work here on Backstory Boon.