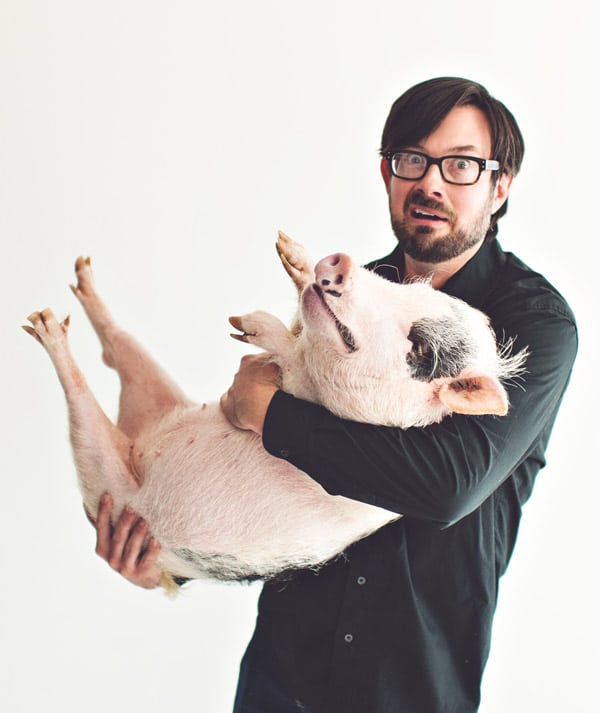 Getting Your Hands Dirty:


James Moore
James Moore has a deep voice that's perfect for radio, a head of hair with a personality of its own, and enthusiasm that's downright contagious. He's a vlogger (video blogger) by trade, running a kooky lifestyle brand and YouTube channel called Busvlogger. Rather than make himself out to be an expert, James is more of an enthusiast, geeking out about food, farming, home, and travel on his YouTube channel. He's also a stay-at-home dad to four kids—which is a story in and of itself.
First of all, why "Busvlogger"?
The name comes from a certain 1976 VW bus called "Willie," which is James' pride and joy. Over the past six years, this rusted and peeling icon has become the trademark of his brand and is just one thing that sets him apart from your average YouTube star.
Life is what you make it.
James' family has lived in a small town in Arkansas for five generations. Childhood in small-town Arkansas, he says, was like "growing up in Mayberry." He loved it—the whole town was like a family. He gets his creativity from his parents; his mom enjoyed decorating, and his dad liked to make things. He describes his upbringing as something like "Country Living meets MAD magazine." Not too far from his current lifestyle brand.
While his home life sounds idyllic, James had a difficult time in school from his earliest years. Struggling with ADD, he found it almost impossible to concentrate on coursework. So his teachers kept him at his desk. "I could probably count the times I went to recess on my fingers, from first to fifth grade." As painful as that experience was, he keeps a positive outlook. The isolation from other kids helped him become quirky (an asset for any YouTube personality), and it pushed him to get comfortable doing things on his own.
"If you could just be someone else…."
James' second-grade teacher was someone he remembers as a person who believed in him. She accepted him as he was and worked with what they had. In middle school, he had more contact with kids and became part of a "tribe" for the first time, but he still remembers those dark days when this teacher was a light in his life. She didn't say, "If you could just be someone else, life could work out better for you." James says, "(She) met me where I was (and) didn't get frustrated wishing I was something more." That's a big part of his message today.
James was a rural kid, an only child, and spent a lot of time alone at school, but in the end, it worked to his advantage as a solopreneur. You can see right away that James has got an intentional worldview that is more than optimistic—it's confident and encouraging. "I really believe…we all have struggles, hurdles, and things that happen in our lives…what are you going to do with it? What are you going to make of it?" Today his tagline is, "Life is what you make it. Let's get our hands dirty." That's what James Moore is all about.
Spreading His Wings
You've probably never heard of Williams Baptist College in Walnut Ridge, Arkansas—when James attended, the campus was practically in the middle of a cornfield. Despite its smallness, going to WBC felt like "going to Hogwarts." It was an opportunity to break out of all the expectations that had formed around him in his hometown, branch out, and start over. He got the chance to be, not what he was expected to be, but what he wanted to be. For the first time, he could say, "You know what, this is who I want to be. I want to take these tips and these elements from these people and these places, and I'm gonna make me what I want."
James' college experience was one of the "puzzle pieces" that has made him who he is and drives his brand. "You can make whatever you want of your life…. I'm really inspired by that theme."
Meet Jamie
James and his future wife, Jamie, met in college. "It's funny…the school was so small that I should have known her for years. Somehow we didn't cross paths for…two or three years, there." He got to know her in his senior year; they started flirting, and pretty soon he decided that he wasn't going to let this one get away.
Asked what was special about Jamie, he laughs and says, "She was real cute!" Also, "she's so smart and driven…she's grounded and knows what she wants." He knew that she was someone who could keep his creative, distractible brain on track.
School from the Other Side
James and Jamie got married and settled down in his hometown after graduation. James had majored in elementary education and started teaching second grade and special education in the same school he had once attended. He says the experience helped him understand the teachers whom he had resented as a kid. Getting to see things from the other side, he got to build relationships with some of those teachers, and that was "very healing." He'd come full-circle. Now he could be the inspirational teacher who encouraged kids by saying, "You are enough. This is where we have to start, and we'll just do our best."
Stay-at-home Dad
James and Jamie determined from the beginning that Jamie would go to nursing school and work full-time, leaving James at home to take care of their future children. When asked, "What made you think you could be a stay-at-home dad?" Jamie says, "I've always been inclined to domesticity," and gives a good-natured laugh. He had grand visions of being a "professional dad" with a well-structured, educational, and efficient home life. Maybe he would try something entrepreneurial once the kids got to school-age.
They had their first child, a boy, and 18 months later a girl. Jamie started out as a stay-at-home mom while James continued teaching, then they switched roles as she began attending classes at the University of Arkansas, Fayetteville. James felt he had accomplished his goals as a teacher and was looking forward to the freedom of life at home. After the birth of their second child, James thought, "This is just about right; I think we can quit now." All was going according to plan.
Until they discovered that Jamie was pregnant—with twins.
The New Normal
So at this point, Jamie was in nursing school and working, and James was at home with four kids under four years old. All thoughts of a streamlined and enlightened home life hurtled out the window. But they decided to soldier on and stick with the plan. It wasn't easy for James. For one thing, any concept of a social life was laughable. It was hard to leave the house, not to mention juggle car seats and hold all those little hands. There was no point in going anywhere. So, once again, James found himself isolated—trapped in a house with four mischievous tyrants (whom he loved very much). "I could either become the mayor of Crazy Town, or I could find an outlet." So he did what anyone else would do: he watched YouTube videos.
Building a Brand
But James didn't just watch—he began contributing. At first, he posted cute things the kids were doing or an occasional rant. He started seeing viewers comment on his videos, the same faces, and that was the beginning of a consistent viewership. "YouTube is so much more than watching videos; there's this comment section, so there's a real opportunity to create a community. I didn't expect that… This was an outlet that also became a community where I could interact with people, so it was a perfect fit…. Kind of saved me, in a way."
The "Mommy Blogger" Tribe
James soon made contact with other bloggers, especially members of Arkansas Women Bloggers, a thriving community of lifestyle writers who were dealing with the same things he was. Somehow, he got asked to speak about vlogging at their statewide conference. "So I went, and I became one of the Arkansas Women Bloggers, basically. I found my tribe." As an honorary "mommy blogger," he was tied into a big network. He co-founded the YouTube channel TheStayAtHomes with four moms. He is now part of the Kin Community (the #1 video network for women's programming on YouTube). James jokes, "I have broken the glass ceiling."
In the beginning, his videos would be about random stuff going on at home. And a lot was going on. "One of my earlier videos…I had gone upstairs to put the twins down for a nap, and the four- and two-year-old…were downstairs alone for five minutes, maybe. I come downstairs—the whole first story of the house is covered in baby powder…. Well, this is a video opportunity!" That's how it started.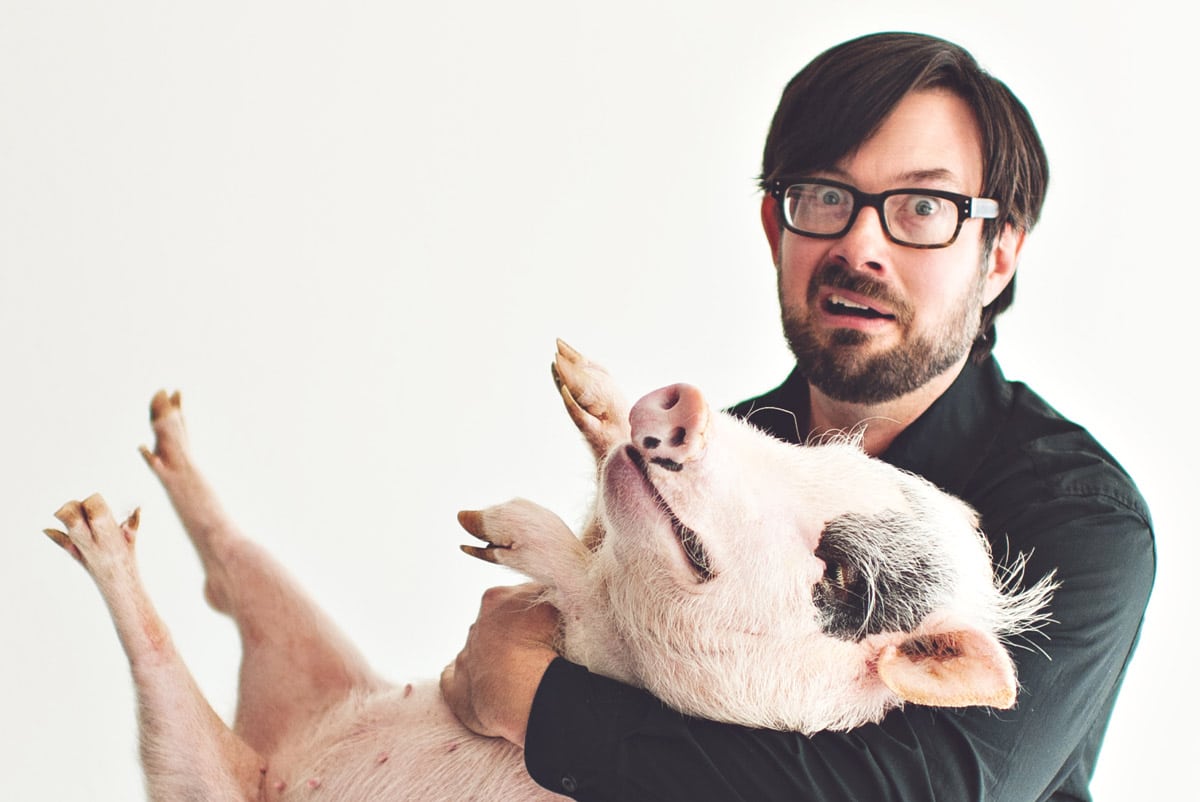 Food. Farm. Home. Travel.
James has come a long way from goat and kid videos (though these are still part of his brand). He has refined his focus, honing in on the topics he is most passionate about: food, farm, home, and travel. Viewers of his early kid-centric videos were hooked by his engaging personality and have since migrated to his more brand-conscious offerings.
His YouTube channel now boasts over 3,100 subscribers, and James is one of the very few people in Arkansas making a living through vlogging. It turns out that companies are happy to pay creatives for developing sponsored work, whether by making a recipe that uses a particular brand of milk or producing a video that celebrates the outdoors. He is now a spokesman for Arkansas agriculture, tourism, and creativity, and a brand ambassador for several major companies.
The Only in Arkansas website, sponsored by First Security, has afforded him many filming opportunities: visiting a bear den with the Arkansas Game and Fish Commission, tasting local ice cream, and exploring the wine capital of Arkansas. This is what he's passionate about—eating, farming, and traveling within this great state, giving shout-outs to Arkansas farmers and innovators.
He still vlogs about his personal life, an adventure in raising four kids, two dairy goats, five chickens, four garden ducks (an experiment of dubious utility), one hog, and a beloved housetrained mini-pig named Emilia. (She's "like a perpetual 3-year old…sasses me all the time.") One of his latest videos features a family project building a lemonade stand out of 100% reclaimed materials. #IntentionalLiving.
The Future of Busvlogger
2016 marks the much-anticipated Year of Kindergarten for the twins. Parents everywhere can identify with the sigh of relief that comes when all the children are school-aged at last. James has always said that this is when he's going to make something big out of his brand, and he's about to make good on that resolution.
This summer he has plans to take his whole family on a road trip all the way to Oregon. Needless to say, he'll be filming the whole thing. We can look forward to quite a few quirky and hilarious vlog posts.
James' crazy audacious goal for Busvlogger is to build his YouTube channel into a television show on a major network. It's only a dream for now, but my guess is that no matter what happens, James Moore is going to make what he wants in life, and keep his hands dirty.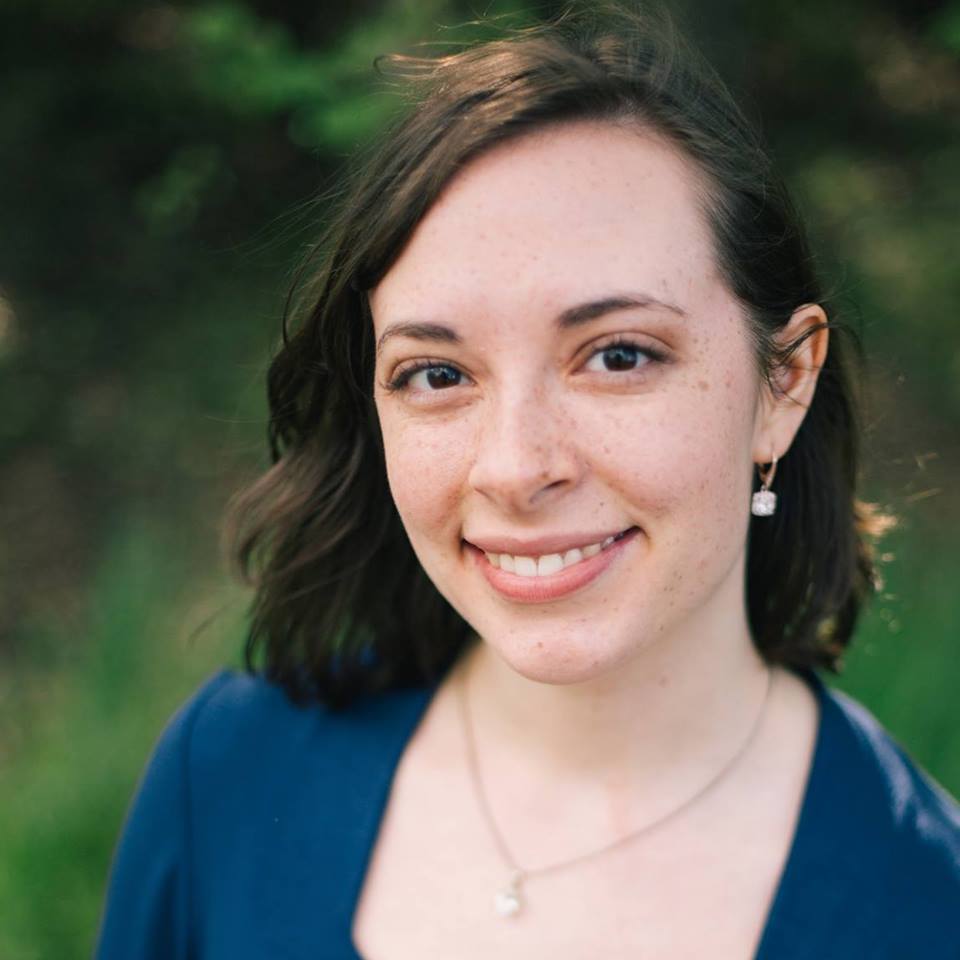 Abigail Young
Contributing Author
Abigail Young was born and raised in Northwest Arkansas. A writer and word nerd, she runs the freelance editing company Stressless Edits. She's passionate about following Jesus, traveling Europe, and living an amazing story with the world's best husband.