OZARK ROOTS


Mo Elliott


of Fayettechill Clothing Company
In 2016, a group of nine highly respected members of the outdoor industry named thirty people under thirty years of age that have made enormous strides in innovation, conservation, creativity, and awareness among the outdoor community. Six hundred people were nominated: thirty were chosen. One of those thirty game changers was Mo Elliott, founder and CEO of Fayettechill Clothing Company in Fayetteville, Arkansas.
Mo is lean and tan from time on his mountain bike and fly fishing in waders. He wears turtle-rimmed glasses and a Fayettechill tee, and he keeps his long, curly hair loose and messy. When Mo speaks, you want to listen. He speaks carefully and softly. His laid-back outward appearance and his thoughtful, serious manner might strike some as being at odds. Hard work and a love of learning have given Mo wisdom that is surprising for his age (twenty-seven). In our interview with Mo, four themes stuck out as being especially significant to the way Mo lives his life: learning, authenticity, conservation, and community.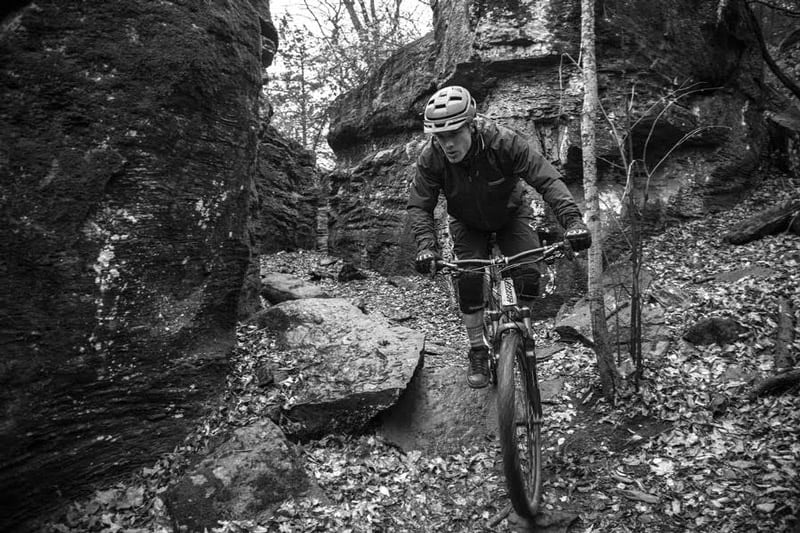 Learning.
Mo has a history of learning and entrepreneurship that extends back into adolescence. He says, "It's kind of weird, but in middle school, when they asked what we wanted to be when we grew up, I said entrepreneur." Mo's grandfather owned several businesses, and his father started a general contracting business in Dallas. Mo and his father, when eating at a restaurant or doing an activity together, would discuss ways that whatever they were doing or participating in could improve. From a young age, Mo had examples of owning a small business around him that made it seem like an achievable goal.
Even more, he had his family's help. Instead of buying Mo a car when he turned sixteen, Mo's family bought him landscaping equipment and a trailer for him to start his own business. He drove his father's car, did landscaping work, and saved up money to buy his own equipment and grow his business.
In 2007, Mo moved from Dallas to Fayetteville for the Walton School of Business and SEC football. He studied entrepreneurship at the University of Arkansas and made it his goal to graduate in four years (or less). He continued to run his landscaping business from Fayetteville, sending his employees routes for the day, receiving updates from them throughout the day, and working to expand his business by offering his clients more add-on services. His junior year, Mo passed the business off to his dad's keeping, feeling tired and knowing that landscaping wasn't something he wanted to do long term.
Even after college, learning is a priority for Mo. "I've always been interested in learning new art, new cultures, new sports. Most people won't see this, but there's an art line we're about to show that's inspired by Oaxaca art in Mexico, Matisse, and many other famous artists. I pull a lot from surf culture. You can see that within the brand. I look at high fashion magazines, outdoor magazines—you name it. I try to be inspired by many things, and tweak it to give it the Fayettechill, Ozark feel." Mo considers his eagerness to learn and understand other sectors to be one of his personal qualities that has affected Fayettechill's direction the most. He has tried to develop artistic ability alongside business savvy.
Authenticity.
While Mo was still running his landscape business, he took a trip home to Texas before returning to Fayetteville for summer school. While he was in Dallas, one of his friends from school asked, "When are you going back to Fayettechill?" Mo says, "That name in itself reminds me of what this town is. I didn't know exactly what I could build with the name, but I trademarked it." As Mo was getting into his outdoor sports, he went into local outdoor retailers Pack Rat and Lewis and Clark, and he saw Patagonia gear branded with "Ventura, California," and North Face shirts praising Berkley, and he wondered if the "outdoor hub" of the Ozarks & Ouachitas could support "a hometown brand for the outdoors." He started by buying plain tee shirts and screenprinting them, and threw a few embroidered chino caps in as well. Everything grew from there.
The brand gained a lot of local popularity in its first couple of years, but something wasn't sitting right with Mo. "Before we moved into the Smokehouse, and even a year after, we were searching for who we were as a company. We were being inspired by examples of lifestyle brands on the east coast and the west coast, but it just clicked two years ago that we could only be successful if we focus on where we are. I had such a hard time off the bat to get the brand outside of northwest Arkansas. We were focused on the Ozarks and the Ouachita area, and the surrounding region. We were thinking about how we could expand across the U.S., and our first thought was that we weren't rooted in the region we represented. Anytime you try to do that, you won't come across as authentic. So being in the Smokehouse, which has so much history, it just clicked. We had to own where we are." Fayettechill continues to dig deep into Ozark culture for inspiration for apparel and gear, which sets it apart from many other outdoor retailers, both locally and nationally.
However, it wasn't enough to simply put down roots in the place of the Ozarks. Mo took the company an extra step, into supporting local athletes who compete in the sports of the Ozarks. "We really want to make this an authentic outdoor brand. In 2012, we started putting together some hometown hero guys who are taking sports to another level. We bring them on, give them free gear, ask them what they think of the products, have them in our marketing. The primary sports we represent are fly fishing and mountain biking. Secondary, we have rock climbing and yoga. We also have 'outdoor recreation,' which would be backpacking, stand-up paddleboarding, and trail running. We picked sports that are unique to the Ozarks. This is a way for us to get gear on people who are really living it. Influencers."
Conservation.
As a company that helps folks enjoy the outdoors, Fayettechill feels a deep responsibility to care for the planet. This isn't an aspect of the brand that has appeared since Fayettechill has grown successful—it's been there from day one. "Even from the beginning, I wanted our brand to stand for something, so we bought organic cotton American Apparel shirts. They were $30. Most people starting out have the mindset of, '$20 is the price point for a tee shirt, so we'll just put it on some crappy Hanes Beefy Tee.' But for me, I wanted the quality and the sustainable aspects off the bat. What I could source was very basic, but that's what kicked it off for us to get into Pack Rat, Lewis and Clark, and Walker Brothers."
Now that the company has much more experience and available resources, they can take their conservation efforts to the next level. "Now we break down every product we produce, from scratch. There's nothing we do now that we buy blank. We're really trying to break down the supply chain from where the materials come from, because that's the only way we can have this dialogue with our customer. We know where our cotton is grown. That's something I'm really interested in—not only making a great outdoor product, but doing it in a sustainable way." Mo isn't satisfied with just making their process better—he's shooting for the best. "We're still not up to where Patagonia is, but we've only been in the cut 'n sew game about two years. We have two local seamstresses who come in a couple of times a month to teach Chris and I how to sew. How can I sell thousands of clothing products if I don't know how to do a single stitch? We have to know all those steps to make the product better."
Community.
At the end of the day, Fayettechill is about people: the people who made it what it is, the people who are striving for better processes along the way, and the people who are being equipped for adventures in the outdoors. When asked who or what has most affected what Fayettechill is today, Mo's response was about the people surrounding him: "The business culture in northwest Arkansas, our employees, our athletes, our hobbies, the conservation nonprofits—all of these have painted on this canvas of what's made the brand what it is today."
Mo's perspective on Fayettechill's retail store, the Basecamp on Dickson Street, is about community as well. "Retail is a community center, a way for people to get into the brand." As the brand expands into retailers across the country, many have asked Mo if he will open more brick-and-mortar stores in other states. He does, but he's deeply concerned both with creating the highest quality retail experience here in Fayetteville, and with creating that same top-notch experience somewhere else. He says, "We would like to have more retail stores, though we want to master our retail now. It's a huge commitment when it's outside of Fayetteville. For future stores, I want the coffee shop and pub style set-up, because I think it's a great community atmosphere. But I also want to open in other outdoor culture hubs. I don't just want to follow the biggest market for us outside of Arkansas. I want to be where, if we want to move employees around within the retail stores, it's a cool area that they would be going to, rather than just a concrete jungle that makes a lot of money but doesn't better our lives or get us outdoors. Austin, Eureka Springs, Chattanooga, Asheville—those places are where I'd eventually like to have stores."
One of Fayettechill's greatest strengths is that the company has created a lifestyle that its customers and followers want to join. Fayettechill's relaxed vibes, focus on the enjoyment and preservation of the outdoors, "I can play both sides: I can play the CEO role, and then do the product design and be the marketing director as well. And that's where I like to spend the majority of my time, building the culture and the brand, so that it's authentic and very unique." Much of Fayettechill's success could be attributed to Mo's focus on "creating a tribe and a culture that people want to buy into, want to be a part of." He describes Fayettechill's atmosphere toward its fans as "open-minded and inclusive." He points out that Fayettechill has no professional athletes on staff, and most of its sponsored athletes are semi-pro at best. Fayettechill encourages people to relax in and enjoy the outdoors, rather than pushing for bigger stunts. Everyone sincere, regardless of experience, is welcome.
The widespread, inclusive reach of Fayettechill's message, and who Mo is, are well displayed in a story Mo tells about how Fayettechill brings people together: "My girlfriend Gracie and I got lost floating on the Mulberry one time. We got our A and B points wrong. It was probably less than an hour of getting dark. I'm freaking out, and she is as well. There's no one on the river at all. I was planning on sleeping outside that night and being in the doghouse for about a month, when I see this truck on the side of the river at this old cabin. He's got a Grateful Dead trout sticker and a Fayettechill sticker on the truck. I think, okay, here's my people. We stayed with him that night, drank moonshine with him, and he's still a friend. I just saw this guy last week on the Mulberry. We're good friends
Having a culture that's exciting, that's more than just cool, that says that when you buy into this you're buying into a responsible company, a company that cares about conservation, that represents people that are really getting outside; layering the brand so that there's a lot of substance to it, that has a lot of emotional ties—I love that we've gotten to that point."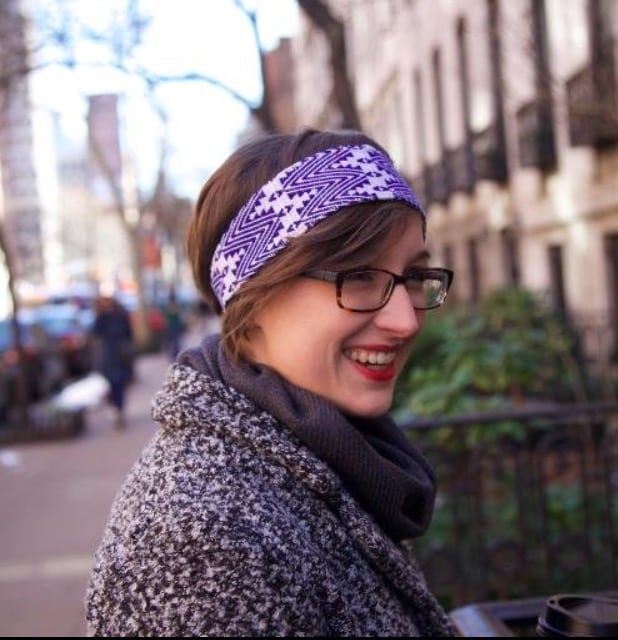 Emalie Cockrell
Contributing Author
Emalie Cockrell is a writer located in Fayetteville, Arkansas. She pursues writing fiction, as well as writing non-fiction about nature, traveling, running, Christianity, and real stories about real people. Watch for more of her work here on Backstory Boon.
"…in middle school, when they asked what we wanted to be when we grew up, I said entrepreneur."
"How can I sell thousands of clothing products if I don't know how to do a single stitch?"