TAKE PRIDE:
Jesse Core of Core Beer
Jesse Core is a husband, a dad, an entrepreneur, seventh generation Arkansan, and a beer lover. He has been a kid from Northside, a baseball player, a software developer, a triathlete, and a single parent. His range of experience is matched only by the breadth of his beard. A humorous, blunt, passionate, down-to-earth guy, Jesse is a true Arkansas treasure. Jesse Core:/span>
On his childhood
My parents were hippies. Until I was about six, I lived in a single-wide trailer in Natural Dam. We didn't have running water, our house was heated with a wood-burning stove, I'd get sent to my room and there'd be a big-ass snake in there. My dad, unfortunately, was encumbered with some bad habits, but it's all right. So I grew up more or less in a single parent home. My mom raised us. I'm very fortunate to have the mother and brothers that I do. My brothers are trailblazers. They're really good at what they do. Maybe that's what stimulated my competitiveness, because I always wanted to be better than my brothers.
I'm really from Fort Smith. My wife is from Fort Smith, my brothers are obviously from Fort Smith, my VP of Sales is from Fort Smith, so we have a strong connection to that area. I grew up in Northside. I'm very proud of that. I grew up on Belle Avenue. There's certainly not a lot of opportunity for those who grow up on the Northside of Fort Smith. I went to Darby. I really hated Darby, but hey, it was a good learning experience. I'll put it this way—it toughened me up a great deal. Then I went to Northside. My oldest brother, Andy, he graduated in '86, my older brother Matt graduated in '89, and I was '91. Andy was a really good football player, went to play football for Tech, and Matt was also a good football player, so I had a little path blazed for me. But I decided to play baseball instead. I really feel like Fort Smith kind of shaped who we are as a brand. We're very blue collar, we're no nonsense, we're certainly not showing up three days in a row for work and asking for a raise.
On motivation to make something of himself
I grew up on the corner of No Hope and No Chance. In high school, I was dating this girl who, let's just say, came from the other side of the street, from a much more affluent family. I remember vividly her mother making a reference that her daughter had certain materialistic needs, and she made some strong comments insinuating that she didn't want her princess dating white trash. For a seventeen year old kid, boy, that certainly resonates with you. There are two types of people in that situation: one is going to go on and become exactly who she says they're going to be, and the other person gives her the middle finger and lets it fuel the fire. I'm the second person.
I played baseball at Westark, which is now UAFS. I was studying microbiology originally, but being a typical freshman, I was chasing tail and drinking cheap beer, being an eighteen year old. But my microbiology professor told me that if I'd get my ass to class, he'd teach me how to make beer—I've been doing it ever since. Since 1992. I finished school, then I moved around as a software developer. After coming back to Arkansas, I graduated from Harding with my MBA. I'm sure they're thrilled about my profession.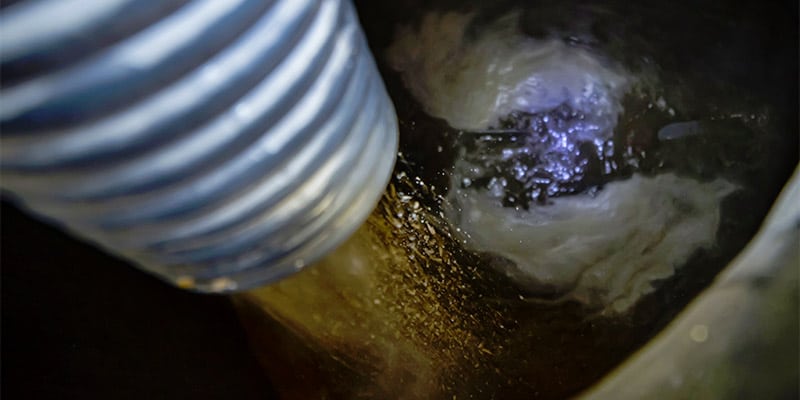 On traveling after college
For fifteen years, I made a career as a software developer. After college, I was like, I need to get the hell out of Arkansas. All you want to do is leave your home, right? I moved to Miami Beach for a couple of years, Boulder for three years, moved to San Diego for seven years, and then back to Arkansas. Going to Miami Beach from Fort Smith—wow. I lived in South Beach, right off the ocean. You know, near Versace's place. His house was a little nicer than my apartment; I had a futon in the middle of my room, all I could afford. I was pretty ignorant when I went to Miami Beach. I thought I knew something, but when I got there, I figured out how little I knew. It was humbling. I got put in my place.
My brother Matt is also a software developer, and he was living in Colorado. I thought I'd go up there for a little bit. I was starting to get into the triathlon scene a little bit, and Boulder has a great triathlon scene. When I went up there, I had a whole new mentality. I was a little more open, a little more humble, trying to learn more about the local culture. It was cool. Software developing, snowboarding, triathlons, beer culture. I enjoyed every minute of it. It felt a little closer to Arkansas than Miami Beach.
A few years after that, I thought, I haven't been to California, that's gotta be the best place, right? So I moved to San Diego, or La Jolla at the time. It was freaking beautiful. You could pick any day of the week, it's going to be 72 degrees and perfect every day. I was there for seven years. I enjoyed the triathlon scene and the beaches. The beer culture was great. There's just so much to do there. But after seven years, I thought, this is a racket. I don't want to drive an hour each way to get to work, and only go to the beach twice a year. It was great, but it was finally time to go home. I moved back to Arkansas with my daughter and started our future here.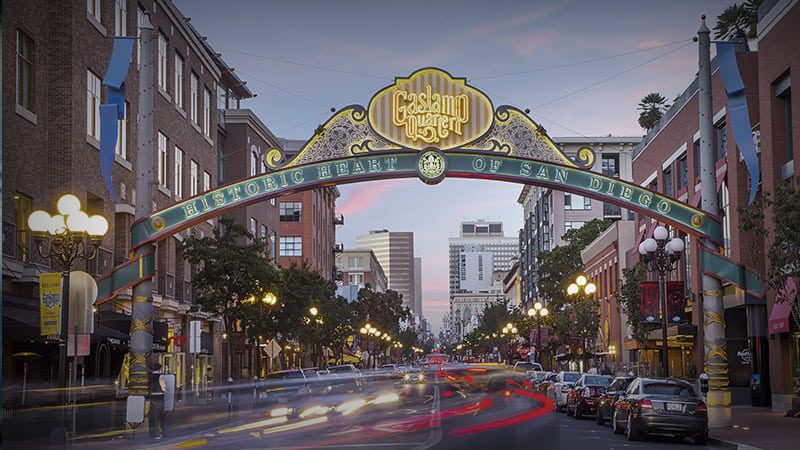 On coming back to Arkansas
Being from Arkansas, you get a lot of crap. When I lived other places, people were like, "Look, he's got shoes on! No corncob pipe?" But those people have missed the boat, because Arkansas is truly an exceptional place, for a lot of reasons. So after I had lived in all these amazing places, I realized there was no place better than Arkansas. So I came home. I moved back with this whole new perspective—this place is awesome! This is where I've raised my daughter. And now I've married Gina—we went to kindergarten, junior high, high school, college together. And, as fate would have it, we ended up together after I moved back to Arkansas with Mia.
When we first moved back, we lived with my brother Andy while I figured things out. I got a job at Tyson, in their IS department, on the production planning side. That was helpful in going into Core. Tyson gets a lot of crap from people, but it's a fantastic company. What Donny Smith has done for that corporation has been nothing short of spectacular. I'm very grateful, and I hope the people in this area are equally grateful to have Tyson and Walmart in the area. I worked for Tyson for four years.
On being on city council
I bought a house, right before the market crashed. Now I'm very proud of my house. But people in my neighborhood were parking their cars in their front yards. I was like, "This is straight up redneck!" There's this whole thing about the curbside appeal of your property. So I called code, and they said it was okay! They said I needed to talk to my councilman. They said, "He's right behind you." Sure enough, he's on the property right behind me, and his car is parked in his front yard! So I ran for city council against him, beat him in a run-off, and served for four years. I changed the code in Springdale—you can't park in your yard anymore.
I just started looking at some of the things in Springdale, like "What the hell is going on? Are you serious?" I got involved, made some good sign ordinance changes. Here's what I saw in Springdale: it's got a great central location, but curbside appeal was lacking. You know, property rights and all that. But we want to elevate the value of our community, right? We spent four long, grueling years working on those, and we made some progress. I think you can see the effects of the new properties, the new zoning changes, and the streets are looking nice. And the Tree City USA. I got so much shit about that. People calling me a "California hippie." I'm like, "I'm a seventh generation Arkansan from Northside!" Trees are good, guys.
Being on city council was one of the hardest and best things I've ever done. I love helping people. It goes back to my mom teaching me about empathy. People would contact me with real problems, things that scared them. That made it all worthwhile.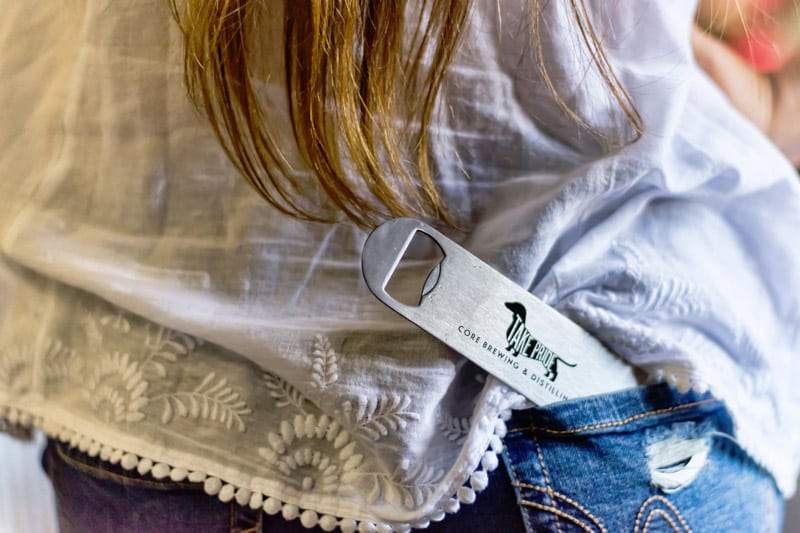 On starting Core Brewing Company
When I came back to Arkansas, there was no good beer. Nothing. There was just Hog Haus up here, and Diamond Bear in Little Rock. I thought we needed something else.
Finding investing was super hard. A lot of people think I just shook the Giving Tree and all this money fell out of the sky. If I had a dollar for every time somebody turned me down, I'd have a lot of dollars. You have to keep going and get thick skin and understand that you have to keep your head down and plow the field.
I was showing banks a seventy page business plan that I worked on for eighteen months. I was very proud to present it. I remember at the first bank, they brought one of their guys in, I presented it, and he thumbed through it real fast and said, "We can't hep ya." Just like that. I expected them to at least look at it! But our business was not good for their image. I would walk banks through our space, show them where the tanks would go, and they would just say, "No, no, no, no, no."
My first investor was my former employer from Tyson. That was huge. That was the spark. Then people paid attention to me. Like in high school—none of the girls look at you until you've got a girlfriend. Then I asked Rick Barrows if I could lease out one of his little bays here, and he said, "Just do it. We'll worry about rent and stuff later. Just make your company happen. Give it a shot."
We just got going in 2012. We were brewing in buckets, and going into soda kegs. We had one customer—I love those guys, Archie and Mike over at Kingfish. We just tried it. It's a diverse crowd over there—you've got bikers, dudes drinking $1 PBR, ultra-craft snobs. I thought if we did well there, we'd have covered a decent demographic. It did great. I was just making one beer, the ESB.
For a while, I was working for Tyson, on city council, starting Core, and being a single parent. Time management is so important. I find that I get lethargic when I don't have stuff to do. I feel more busy when I have less stuff to do. I'm more focused when I have a few irons in the fire. I learned a lot during that time.
On Mia Core
Along the way in my traveling I got Mia. My first marriage didn't work out. Her mom is now in Jersey, and Mia and I have been hanging out since she was born. I fought for custody of her. I'm pretty resilient. I have full custody of her now. It was a lot of work. But I didn't have a choice. What's my choice? Not to be with my daughter? That's not a choice.
She's been a part of the brewing process since she was born. She's going to be a handful when she starts dating. Boys will have to be careful what kind of beer they order around her, because she will be like, "Man, you are such a sissy."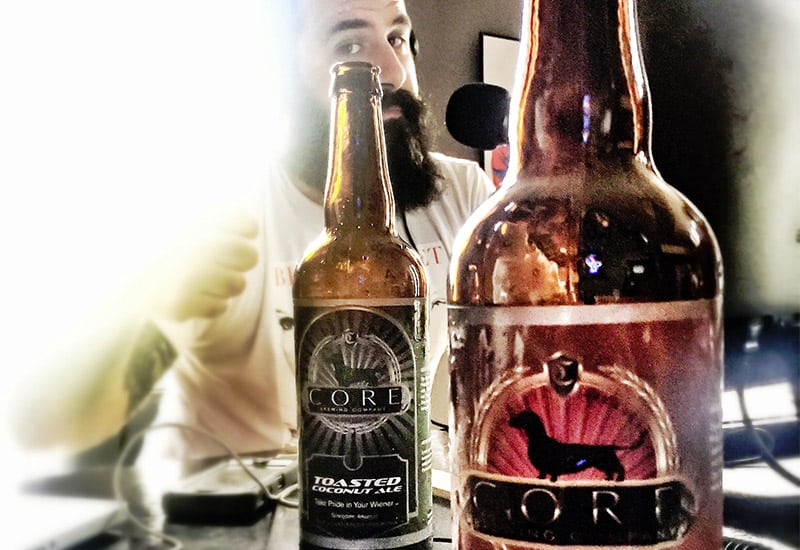 On the future for Core
Currently, we're building a distillery and cooperage in Fort Smith. We want to use Arkansas raw material. We can't make beer from Arkansas crops. You can't grow hops in Arkansas. There's no barley. But we've got corn, wheat, apples, peaches, grapes—so we're looking at good Arkansas bourbons and brandies.
We are the largest microbrewery in the state. I've always wanted to be a larger brewery. We are one of the handful of breweries in the country that is also a distillery. Ultimately, our goal is to be Arkansas' brewery, to earn that.
To find out more about Jesse and Core Beer, and to find where to get a drink, visit corebeer.com.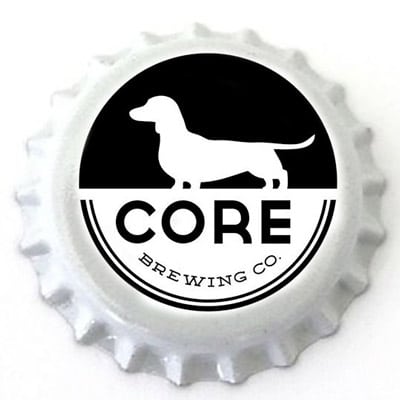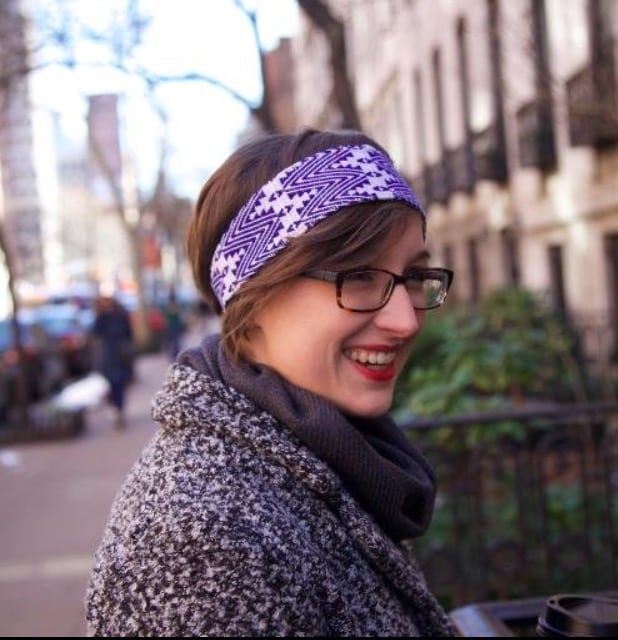 Emalie Cockrell
Contributing Author
Emalie Cockrell is a writer located in Fayetteville, Arkansas. She pursues writing fiction, as well as writing non-fiction about nature, traveling, running, Christianity, and real stories about real people. Watch for more of her work here on Backstory Boon.