eNewsletters Demystified – Part 3 of 3 – Optimizing
eNewsletters Demystified – Part 3 of 3 – Optimizing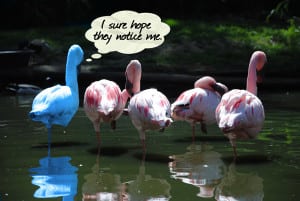 Blue Zoo has researched the current 'best practices' and recommendations for enewsletters, so that you don't have to!
We've created a three-part blog series with all the most up-to-date wisdom of the web, to help you create a newsletter that works in today's environment and maximizes your opens, click-throughs, subscriptions and – ultimately – sales!
In this third and final installment, we offer more tips for Optimizing your Newsletter, including the best use of graphics, images and videos.
Photos & Graphics, or Text?
Photos and graphics can be compelling content, but they can also be a double-edged sword, according to meetcontent.com. You never want to put all your text in an image file, as it will not be seen by those using screen reader or users who don't automatically download images in emails (which includes many mobile email clients).
"Image-only emails are a bad idea, because you're providing a reader with no alternative for getting the information."
For email, photos and graphics work best as complementary content, not carrying the bulk of the communications workload.
Keep Images Simple
Do not use animated GIFs or Flash elements, mequoda.com advises: if your overall email size is over 70K, it may be too big to download via mobile. Apple usually asks iPhone users if they want to "download the remaining" bytes instead of automatically downloading the whole email. Keep that in mind when deciding on the amount of images to include.
Use Videos
E-newsletters that include links to videos have double the click-through rate, according to nptechforgood.com. You can link the video screenshot directly to YouTube or Instagram, or to videos embedded directly in your website or blog.
Use Alt Text for Your Graphics & Images
Several of our sources also emphasized that you should make sure your images have one essential component: alt text. Alt text is the alternative text that appears when images aren't loaded in an email.
You will have recipients who simply do not download images to their mobile devices, and in that case, you want them to at least know what the image or graphic is or represents.
If the images are crucial to your email message, add an alt text message in your header image that says, "For best results, please display images in this message."
Newsletter Design & Spacing
In general, it is important to give all of your content enough room to breathe: the newsletter should use images to support the content and business goals, but not overuse them. Says mequoda.com:
"It should be easy to skim, with short paragraphs, bullet points and ample white space."
Jakob Nielsen, the usability researcher at the Nielsen Norman Group, has stated that the average amount of time readers spend with our emails is 51 seconds, so the established web writing best practices definitely apply: be clear, be concise, be readable, use section headers and the active voice, avoid jargon, etc.
Prioritize Mobile Design
According to nptechforgood.com, 66% of emails are now opened either on a smartphone or tablet. For email to continue to be effective, you have to design for mobile. Here are some easy ways to do so:
Convert your call-to-action links into call-to-action buttons for easy tapping on mobile devices, and use plain, actionable language in the link text.
Social networking icons should be placed at the top of your e-newsletter, because many readers will not scroll all the way to the bottom.
Many publishers are switching to single column designs that flow and read more easily on smaller devices.
Fonts need to be larger: many designers recommend a minimum of a 14 pixel font for body text and a 22 pixel font for headlines.
Try to build your email template in as much basic HTML as possible: CSS is sometimes blocked and your careful formatting can get messed up.
Use Statistics to Help You
If you're using a service like MailChimp or Constant Contact to send your email newsletter, you automatically get some valuable statistics. Just like with web analytics, it's important to evaluate your statistics on an ongoing basis to ensure that your newsletter efforts are successful and not wasted time.
These include:
Open rate – how many read the email; aim for 20-40 percent
Click rates – how many click on a link; aim for 2-15 percent
Forwards – how many shared with friends; an increase in this number indicates a heightened value to your content
Unsubscribes – the fewer the better; a spike indicates a problem with your content
Bouncebacks – always make sure your list is up-to-date, and clean out non-viable addresses regularly
New signups – an indicator that readers are sharing your content
Set Expectations on Your "Subscribe" Page
Get specific, advises hubspot.com. Tell potential subscribers exactly what kind of content will be in the newsletter, as well as how often they should expect to hear from you.
Don't Hide the Unsubscribe Button
Not only is it against CAN-SPAM regulations to omit your unsubscribe button, but making the button prominent actually makes subscribers feel more secure.
Social Media
Don't forget to post a link to the web version of your beautiful new newsletter on social media! Convert your followers into newsletter subscribers by letting them see the great content you have to offer. If your newsletter is good, people will enjoy and share it.
Make sure you check out the first and second installments in this eNewsletters Demystified series, where we give in-depth tips on Getting Started as well as on Content!
Need Assistance? Blue Zoo has experts in newsletter design and writing. Contact us today for help!
About Kelly
Kelly was a Creative Content Strategist at Blue Zoo Creative. Her creative background in art, music and photography, experience in corporate HR, and Master's degree in English Literature from The College of William & Mary, she was able to adjust her style of writing for each unique client.